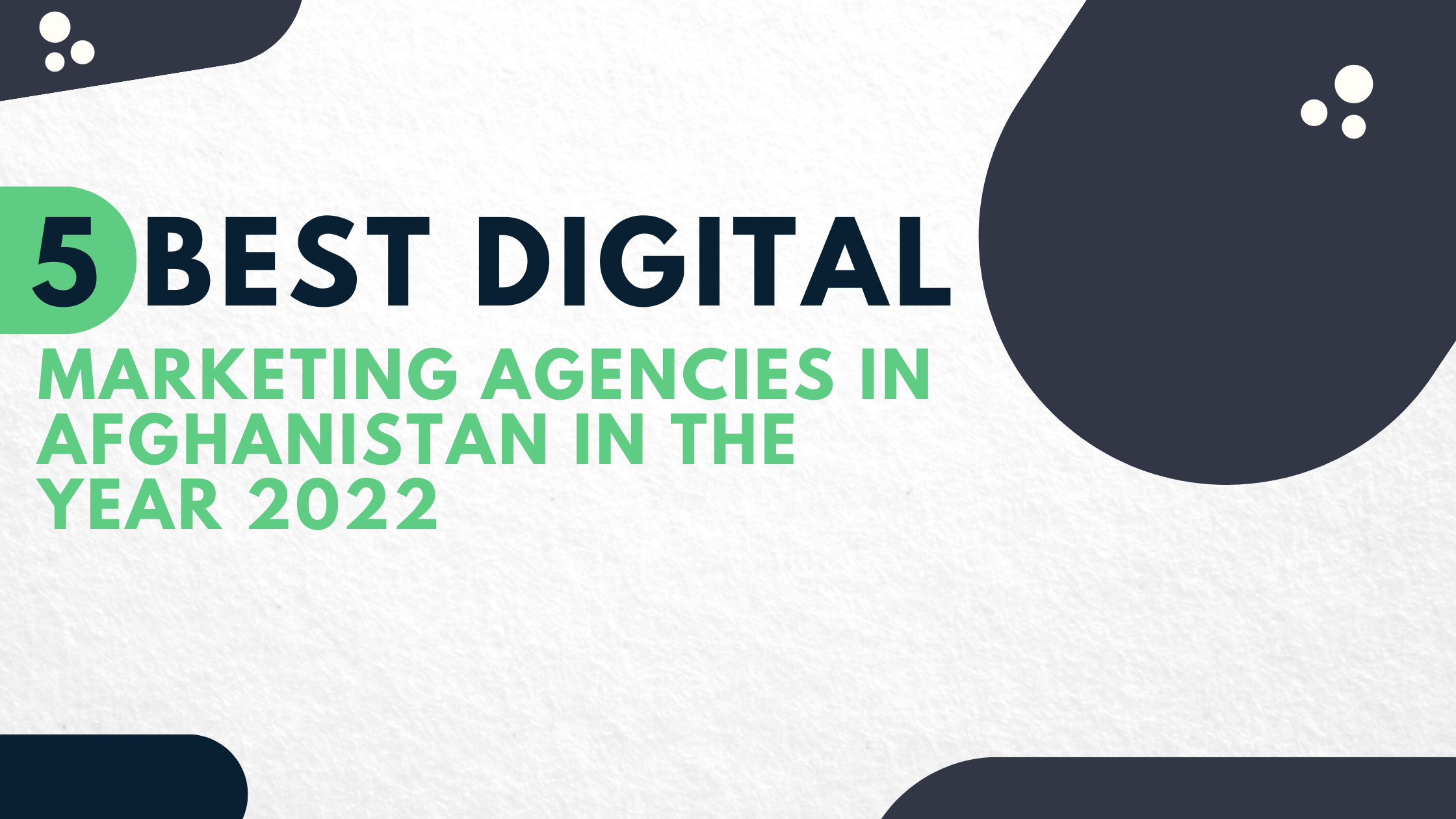 Top 5 Best Digital Marketing Agencies in Afghanistan in the Year 2022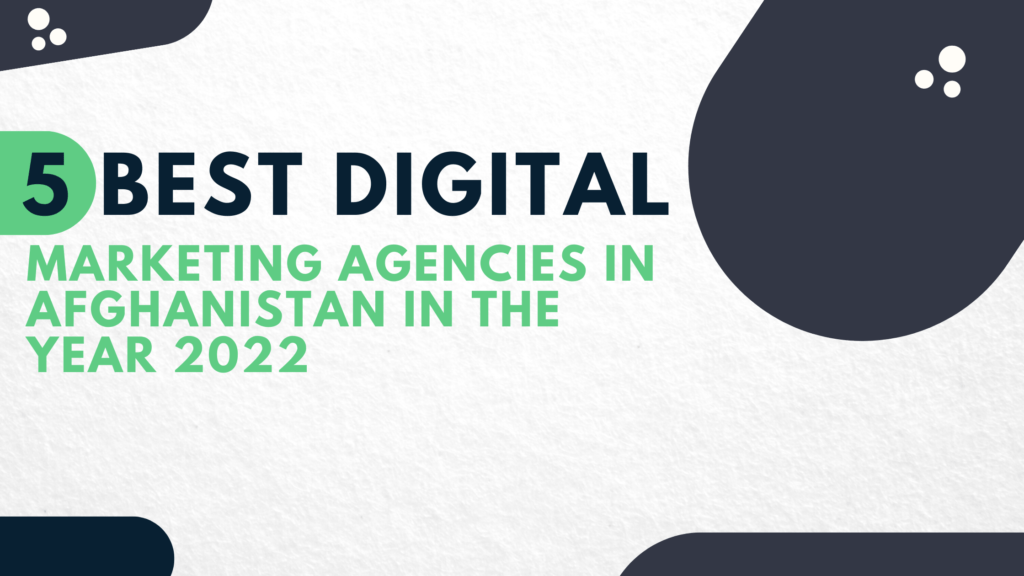 Top 5 Best Digital Marketing Agencies in Afghanistan in the Year 2022
According to the ministry of telecommunication of Afghanistan, more than 10 million people in Afghanistan have access to the internet. This is a huge opportunity for businesses in Afghanistan in the digital world. The businesses in Afghanistan can start creating their websites and promote their products and services in this realm. But the problem is the lack of experienced digital marketers and professional digital marketing agencies in the country. In this blog, we will introduce the top 5 digital marketing agencies in Afghanistan.
We started our digital marketing agency (SEO) in Afghanistan in the year 2014. At that time Digital marketing was a new term for the people in Afghanistan and they usually mixed it with network marketing. Due to a lack of people's trust and security concerns our agency failed and our founder Mujib Nuristani left the entrepreneurship path and started working for international brands like the BBC Media Action, the British Council and Ferrum Network.

In the year 2021, he had the opportunity to settle in the UK. He says when he came to the UK in August 2021, he saw a massive opportunity. The minute he changed his LinkedIn profile location from #Afghanistan to the #UK he started receiving messages from the recruiters. As a #hustler, this was odd and surprising for him, he knew that he always had entrepreneurship in his blood but he was not in the right place. He says, he came to the UK, he saw the opportunity, he didn't sleep on it, he founded Digirize.io.

Afghanistan is a young nation and 60% per cent of its population are young people. Through this startup, he wants to make a big change for these youngsters, he has decided to donate 30% of our revenue to the children in Afghanistan and this policy won't ever change.
THE PROBLEM
The digital world is a fast-paced realm, everything moves very quickly. Just recently Apple announced their updated privacy policy and also their IOS 14 had a massive impact on Facebook advertising.
Facebook had to come up with the solution, they introduced aggregated measurement policy. The digital marketing gurus who have completed a simple online course and have created digital marketing agencies, don't know what that means. They also don't know how to run conversion ads, set up custom events, create conversion goals, run retargeting ads and run dynamic ads.
SOLUTION
Businesses need a professional digital marketing agency with experienced individuals who understand these policies and know how to implement them on different ad platforms.
We at Digirize have 8 years of experience in digital marketing, our Founder Mujib Nuristani has a background in working with International brands like BBC, the British Council and the Ferrum network. He knows the core problems in the digital marketing realm and understands how to quickly find solutions for them.
Established in 2007, KaPUL Group is a leading integrated business communication and digital marketing services group with over 13 years of experience and investment above $1,000,000 USD headquartered in Kabul, Afghanistan operating with over 200 employees between the UAE, Turkey, USA and Afghanistan offices.
KaPUL Group is enjoying the status of a market-leader on account of its long-term, top-tier customer relationships provided services to a wide range of Government, United Nations, USAID, Telecom Companies and many other national and international organizations to maximize their operational effectiveness even in the most challenging situations and locations across Afghanistan.
Founded in 2020 and based in Kabul, the agency has been on a mission to provide digital marketing services in Afghanistan. Their services include social media marketing, target marketing, video, search engine and traditional marketing. They are specialized in marketing that helps businesses, create leads, ups productivity, and ultimately provide you positive results. Their goal is to find solutions in online marketing to connect the companies with their target customers.
Afghan Graphics, a team of creatives with strong expertise and many years of experience in web and digital design, was founded in 2009 and based in Kabul, where city noise and every original sound give them more energy to work. The main approach in the studio's work is to consider carefully the specifics of every project and to find instruments that would help to achieve customers' objectives; real, measurable impacts that help them articulate their messages, reach their audiences and achieve their goals. Their aim is to create a journey from brief to the final product that's as direct and hassle-free as it can be. All the work we produce, whether visual or technical, is bespoke to your project.
Afghan Developers excels at custom design and front end development. We love taking on challenging projects that require full-on content strategy, thoughtful design, demanding development, and ongoing marketing.
A developed Afghanistan where the institutions are sustainable and have easy access to the needed skills and expertise. Oriental Consultants was established by a team of professional bankers, financial analysts and training experts in 2007. It is a registered organization with Afghanistan Investment Support Agency (AISA) under license Number 11011. Its guiding principle is to provide high-quality services to its, clients, by tapping the most qualified specialities.