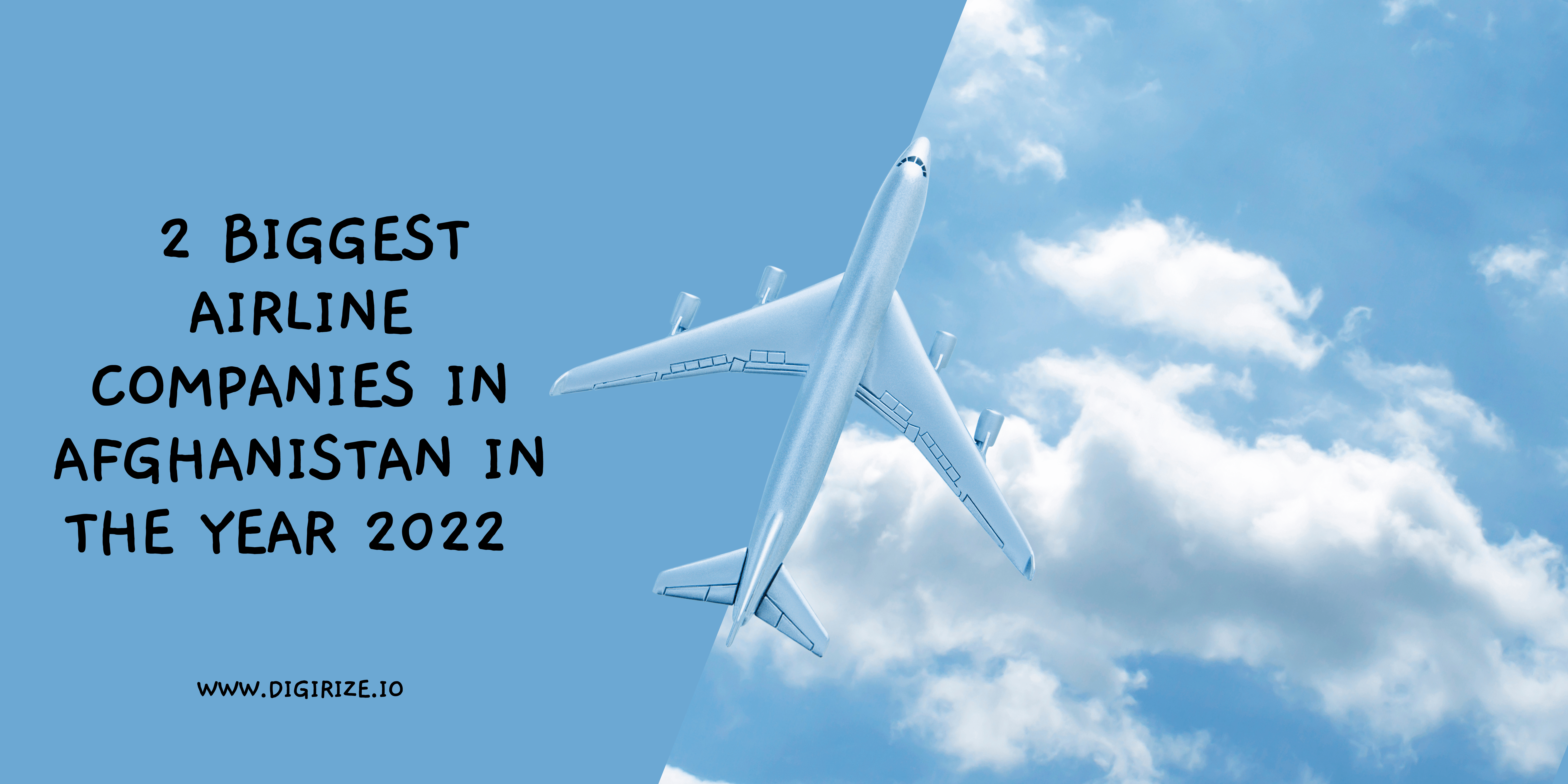 2 Biggest airline companies in Kabul Afghanistan in the Year 2022!
When it comes to economic development, the private sector plays an important role. People who are living far from the cities in Afghanistan have no access to various facilities. This is why airline companies are so important to the population of Afghanistan. These companies provide cheap services for their customers and help them enjoy traveling and visiting different places. Below are the top 2 airline companies in Kabul Afghanistan in the year 2022!
Kam Air Airlines
Ariana Afghan Airlines
Kam Air Airline Company is the biggest airline in Afghanistan. It was established in 2003. The airline has its headquarters in Kabul. The airline operates offers direct international services from Kabul to:
Kuwait
Ankara
Dushanbe
Islamabad
Istanbul
Jeddah
Mashhad
New Delhi
Sharjah
Tashkent
Tehran.
 Kamair connects Kabul to 10 domestic destinations:
Khost,
Bamyan;
Khost;
Chaghcharan
Faizabad
Farah
Herat
Kandahar
Maimana
Mazar-e-Sharif
The airline operates both domestic and international flights. The airline has an impressive safety record, with no recorded accidents or incidents over a 19-year period. The Company also has an excellent on-time performance record and a very good customer service record.
Kam Air was Afghanistan's first private commercial airline and is owned by its founder, Mr. Zamaray Kamgar, a renowned Afghan businessman.
Its Air's Operator Certificate (AOC No. 001) was granted in August 2003 and was the first to be issued by the Ministry of Transport and Civil Aviation of Afghanistan (MoTCA). Kam Air was subsequently allocated International Civil Aviation Organization (ICAO) Code KMF, International Air Transport Association (IATA) Code RQ, and Financial Code 384.
Since its foundation, the airline has enjoyed impressive growth. It has an annual turnover of US$ 200 million and carries more than a million passengers each year. Kam Air has played a major role in the development of Kabul as an important transport hub in the region, supporting Afghanistan's commercial, industrial, and tourism sectors.
This network further benefits from a codeshare agreement with Air Arabia and Kam Air has interline arrangements with APG Airlines, Hahn Air, and Saudi Arabian Airlines. All of its services are available through global distribution systems such as Apollo; Galileo; Sabre; Sirena; and Worldspan.
Kam Air is privileged to serve a wide range of corporate clients, including international NGOs such as the Danish Refugee Council; Norwegian Refugee Council; Save the Children; and the Swedish Committee.
As well as its scheduled commercial services, Kam Air also provides cargo and passenger charter flights to the Afghan Presidency, ANSF, the German Embassy, Tetra-Tech GSSP, the US Army and the US Embassy, as well as to private companies and NGOs in both Afghanistan and internationally.
Kam Air has offices throughout its network.
The Kam Air fleet of 13 aircraft comprises Four Airbus A340s; two ATR42-500s; Six Boeing B737s; and one Boeing B767.
As a responsible business, Kam Air complies fully with the recommended practices and regulations mandated by ICAO and certified by MoTCA, especially where they relate to safety and quality standards. The airline was also recertified by the Afghanistan Civil Aviation Authority in October 2017 and its quality management system has been certified as compliant with ISO/IEC 27001:2013 and ISO 9001:2015.
Kam Air proudly supports the development of Afghan professionals and 90% of its workforce of more than 800 employees are Afghan nationals. It remains committed to improving its talent base through a comprehensive program of training and development.
Kam Air is the largest taxpayer in Afghanistan, contributes significantly to the GDP of the country, and received the award for the best taxpayer from the Ministry of Finance and the Ministry of Economy in 2017.
But Kam Air's philosophy has been one of continuous improvement and the airline has ambitious plans for the future.
Central to its growth strategy, Kam Air intends to expand its international network and is evaluating potential new routes to Azerbaijan (Baku); China (Hangzhou and Urumqi); Germany (Frankfurt); Iraq (Baghdad and Najaf); the United Kingdom (London); and the United States.
To sustain this expansion, Kam Air is in discussions to acquire additional aircraft to increase and modernize its aircraft fleet, ensuring that its services are: affordable; efficient; environmentally sustainable, and safe.
A cross-functional team is preparing the airline for its IATA Operational Safety Audit (IOSA) in the first quarter of 2019. IOSA is an internationally recognized and accepted evaluation system designed to assess an airline's operational management and control procedures, standards, and systems and is a pre-requisite for Kam Air's membership of IATA, the prestigious trade association of the world's international airlines.
A visible symbol of Kam Air's progress across all these areas will be its rebranding, through which the airline will embark upon the next 10 years of its journey, whilst retaining its reputation for stability and success in connecting Afghanistan to the world.
Kam Air's main line of business is the carriage of passengers on regularly scheduled flights in domestic as well as regional flights.
They also offer charter flights within Afghanistan as well as International destinations to or from Afghanistan.
Their charter flights department offers their clients reliability. Safe and competitive prices for a wide choice of aircraft and helicopters in Afghanistan and Internationally.
They provide a wide range of cargo solutions for all your cargo transportation needs within their network as well as dedicated cargo charter flights.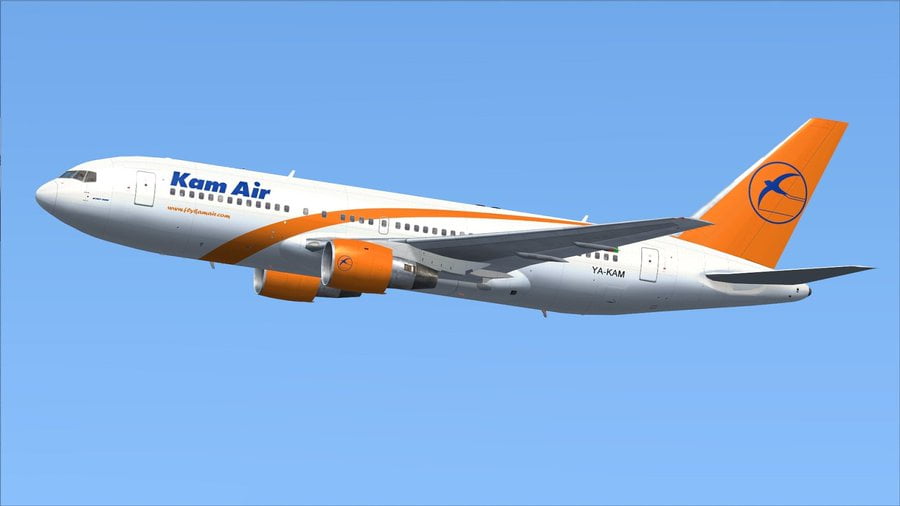 Ariana Afghan Airlines is the national airline of Afghanistan. The company was founded in 1955 and has its main hub at Hamid Karzai International Airport in Kabul. It operates scheduled domestic services to all major cities in Afghanistan, as well as international flights to destinations in Europe, Central Asia, and the Middle East. As of 2015, Ariana Afghan Airlines operates services to 18 domestic destinations and 15 international destinations. The company also operates Hajj charter flights to Jeddah in Saudi Arabia during the annual Hajj pilgrimage. Ariana Afghan Airlines (ARIANA) is the largest airline in Afghanistan and serves as the country's National Carrier. Founded in 1955, ARIANA is the oldest airline in Afghanistan and has historical credibility in the aviation market. The company has its main base at Kabul International Airport, from where it provides flights to key domestic destinations and internationally!
China
India
Russia
Saudi Arabia
Turkey
UAE
The carrier is headquartered in Char Rahi Shaheed, Shahr-e-Naw, Kabul. A pleasant journey to Afghanistan with ARIANA is one more reason to come to their beautiful country. This, simultaneously, provides their contribution to the overall development of Afghan tourism and the economy. ARIANA is recognized for its safe and quality service, and is well known for punctuality, customer satisfaction, and flight schedule integrity.
A safe, reliable & profitable airline providing excellent air transport services and encouraging business investments in Afghanistan.
Their employees demonstrate personal commitment every day and form a strong team with their wide-ranging expertise in different fields of service deliverance, based upon respect and appreciation. Their managers are role models who motivate and provide expert leadership to their teams.
They provide their passengers traditional hospitality using a fleet of well-maintained aircraft offering convenient routes and attractive prices. Let them invite you to fly with them to visit the new Afghanistan.